So, you've finally bought a portable outdoor spa? Congrats on that! How about hot tub enclosure? However, if you plan to maximise the use of it, your work doesn't end upon installation. You also need to make sure that you and your family will be able to utilise it anytime you want. A spa gazebo can help you with that. It's a useful complement to any outdoor space that can give shelter from any natural elements like the sun, wind, snow, and rain. But with so many products on the market, how do you choose the right spa gazebo?
Choose The Perfect Spot For Your Hot Tub Enclosure
The first thing to do is to assess the space in your backyard and look for the right place to put the portable spa and the hot tub enclosure. If you already have the spa installed, then it's all good. Whichever the case may be, remember to think thoroughly when deciding where to place the portable spa to maximize its use. Some things that you have to consider include the water lines, as well as the spot where there's enough room for installation and moving around. You also need to think whether to install them on an elevated wooden deck or work with it on the ground.
When it comes to installation, consulting with professionals will be a good move because they are experts in everything to do with portable spas and gazebo. They will help you make the right decisions, so your outdoor amenities are installed correctly.
Look Into The Size And Dimensions of Your SPA Gazebo
Once you've determined the exact space in your backyard and the outdoor spa that you are dealing with, you can carefully select the right size of your space gazebo. If you get an overlarge gazebo, it could eclipse the overall design of your outdoor landscape. On the other hand, don't pick a size so small that you'll have barely enough space to move around. Choosing the spa gazebo with adequate size and dimensions needs shouldn't be taken lightly.
Think About The Design
It's time to pick the design that will fit both the outdoor spa and allotted outdoor space. Think which shape is the best. You can choose from square, rectangular, oval, or octagonal spa gazebos. You also need to consider the type of roofing that you want. There's the standard roofing, pagoda roofing, and tiered roofing. Each is aesthetically pleasing in its way, so choosing which one to include will depend on your preference.
Aside from the roofing material, you should consider the important gazebo parts like doors, screens, and railings. If you are yet to install the outdoor spa and want to have a deck to support it, you will need to consider the deck material as well.
Pick your preferred texture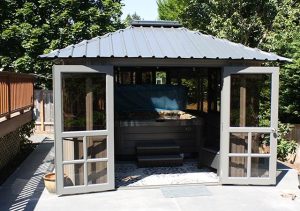 The next step is deciding between wooden spa gazebos and vinyl spa gazebos. Both have their advantages and disadvantages. Wooden spa gazebos are preferred by many homeowners because of their natural beauty and finish. They can make your outdoor space look elegant, and they're very reliable to withstand any weather.
On the other hand, vinyl spa gazebos are much easier to maintain and clean up. There's no need for sanding, staining or painting with this type of spa enclosure. Vinyl spa gazebos also don't rot, crack, peel, or fade, unlike wooden gazebos.
Professional Services vs DIY
To choose the right spa gazebo, the last step that you need to determine is whether you want the installation done by professionals or by yourself. If you wish to sit back and relax, most spa gazebos and hot tub enclosure vendors have installation included with their services. Professional help is especially useful with more beautiful spa gazebos. But if you are pretty good with tools and like building your stuff, then go to a gazebo provider with products that are user-friendly and can be constructed quickly without an expert's help. In which case, Westview Manufacturing is the right place to go.
Westview Manufacturing has a wide array of spa gazebos and hot tub enclosures that are pre-assembled in a wall-to-wall panel format. They're ready for on-site installation, which can be done by homeowners without the help of professional services.
We have distribution sites in Canada and the USA. Contact us now for the best natural looking synthetic wood gazebos and enclosures for your outdoor spa or hot tub.